Sustainability Features
Husky Stadium
Husky Stadium underwent a major renovation in 2012. Throughout the design and construction process, steps were taken to create an environmentally friendly building while using a sustainable construction plan. The renovated Husky Stadium is recognized as a model of success in facility renovation. During constructions, over 95% of construction waste was reused or recycled. Concrete removed from the lower bowl was crushed on site and reused for fill under the current structure.
The stadium was renovated using Salmon Safe practices, using two large retention ponds to filter all waste water before entering Lake Washington. Additionally, existing trees and shrubs were saved and replanted on site after construction.
Spiral ramps on the south side were replaced by elevators. Gas golf carts are no longer necessary to transport fans to upper levels seat and service vehicles are no longer used inside the stadium.
Compactors for recycle and compost were added to the loading dock which allow for fewer trips and ease of disposal.
The stadium is equipped with many energy and water saving features including LED lighting that automatically adjusts to daylight and is motion activated, low flow fixtures in restrooms and locker rooms and indoor/outdoor suites and clubs that require less heating and air-conditioning.
The UW is a member of the UW Green Building Council (USGBC), which develops and administers the Leadership in Energy and Environmental Design (LEED) Program. The Husky Stadium project is LEED Silver certified for design, construction and sustainable operating practices.
During the 2015 football season, UW Athletics received the National Association of Collegiate Directors of Athletics (NACDA) and USG Corporation Sustainability Award. The USG NACDA Sustainability Award was designed to recognize NCAA Division I institutions, honoring athletics directors and their universities for incorporating sustainable practices and materials into their athletics facilities. An eight-person committee consisting of athletics directors across the country and representatives from USG and NACDA aided in selecting the University of Washington as this year's inaugural award winner.
University of Washington
The Husky Union Building (HUB) is a certified LEED Gold building, with many sustainability features incorporated into a 2012 renovation that completely transformed the interior of the 260,000 square-foot building. The HUB's open, inviting spaces also contribute to energy efficiency, with natural lighting and air circulation. During the renovation, 95% of the material from the old building was reused or recycled. Examples can be seen in the downstairs bowling alley, where wood from the old lanes was refashioned into items such as benches. Water bottle refill stations on each floor encourage resuable bottle use, and 3D waste signage helps keep recyclables and compost out of the landfill. Read more on the UW Sustainability "In Our Nature" blog.
The HUB is home to many groups committed to sustainability. The ASUW Bike Shop on the ground floor is a student-run shop providing maintenance and repair services along with bike products. The Student Food Cooperative's Bean Basket provides bulk non-perishable, sustainability-sourced foods at low prices. See more resources offered by the HUB.
At the University of Washington, sustainability is in our nature. The UW was founded in 1861 and is recognized as a national leader for its deep commitment to sustainability on our campuses and in the community. The UW is a charter signatory of the American College & Universities Climate Commitment, a signatory to the Washington Business Climate Declaration and a founding member of the University Climate Change Coalition. An executive order calls on the university to identify sustainable practices in our operations as part of the UW's legacy to the future, and the Board of Regents has issued a policy of Business Equity to encourage a diverse supplier pool. The UW recognizes that diversity - one of UW's six core values - is integral to excellence, and we strive to create welcoming and respectful learning environments, and promote access, opportunity and justice for all.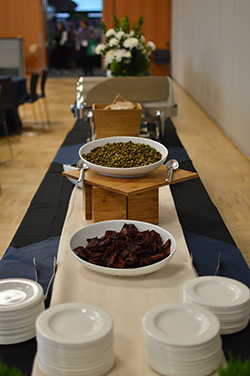 Food & Beverage
Preference is given to local and sustainable products
Condiments are served in bulk containers and minimal food packaging is used
Printing
Official conference materials are printed using vegetable based inks on recycled materials
Printing is limited and preference is given to digital resources
Registration
Event promotion is pursued primarily via online methods
Registration process utilizes a 100 percent paperless ticket system
Badge holders are compostable, made from corn-starch and reused when possible
Transportation
It's easy to travel to and from the University of Washington by using public transportation. Sound Transit's Link Light Rail station is an easy 10-minute walk from the HUB, and many King County Metro bus lines serve the UW campus, connecting to destinations across Seattle and the Puget Sound region.
Copyright © 2019 • Event by Social Enterprises, Inc. #Pac12TeamGreen